Tanning Tips


There are no secrets to the perfect tan, just things you don't know yet. So lets fix that!
As skin therapists we decided to create something for the first step of the tanning process that would rebalance the skins PH leaving it soft and ensuring a long-lasting tan, our Protecting Primer for face and body. Infused with Antioxidant Vitamins A & E, Organic Witch Hazel & Lactic Acid to repair and protect the skin. Immediately before you tan, lightly mist over your face & body and pat gently to remove any excess. Use daily on face and décolletage to keep the skin hydrated and repair sun damage.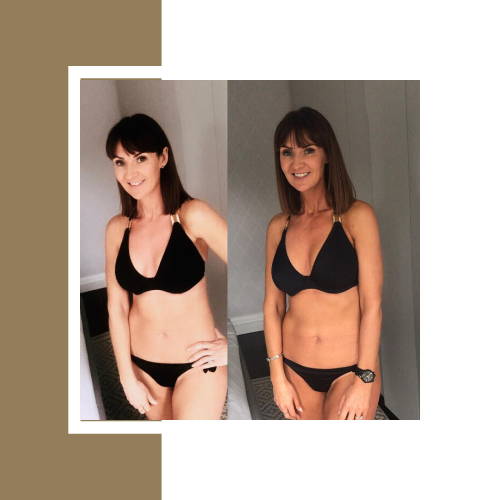 FORMULA

Simple to use, streak free and swift drying, our luxuriously hydrating formula cares for your skin with organic ingredients and creates a gorgeous tan that will smoothly fade in up to 7 days.

USE A MITT
The dreaded tanned palms and the tinted soles, they're an instant giveaway that your tan may not be from that surprising burst of sunshine over the weekend. Use a tanning mitt to protect your hands and wash them and your mitt after every application.

AVOID THE TELL-TALE PALE PATCHES

Don't forget to tan behind your ears, essential if you have a pixie cut but even if you love your long wavy locks tumbling down your shoulders, there's always a time for a ponytail or bun.

TOE TO TOP

Start your tanning at the ankle and work upward to save yourself from any weird marks left from bending over. With your Lusso Tan Mitt smooth your chosen shade onto cleansed skin. Start at your ankle sweeping the lotion/mousse upwards in long, gentle strokes. Simply turn your mitt back to front to apply to your back. Leave hands and feed to the end. Wait 4 - 8 hours before showering to reveal your natural looking Mediterranean tan.

HANDS, FEET & FACE

Apply a small amount of your chosen Lusso Tan product to your mitt with some oil free moisturiser (you should have more moisturiser than tanning product). Use a brush for hands, feet & face application to really work into the skin for an even coverage. Avoid the side of the feet & ankles, and the sides of the hands & in between fingers as the sun wouldn't naturally hit those areas.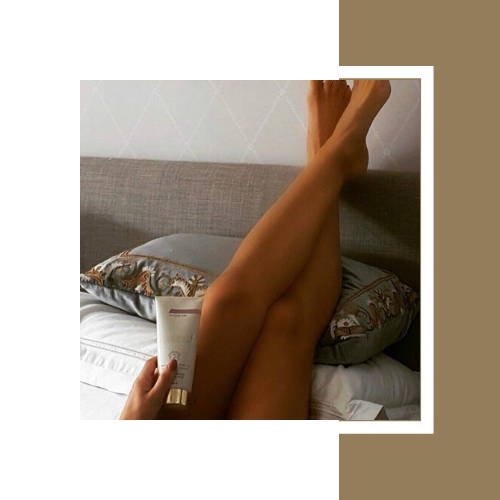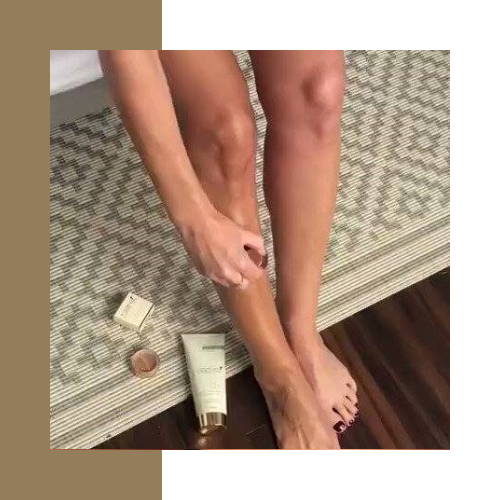 SKIN PERFECTOR

By covering imperfections and reflecting light, our Finishing Touch Skin Perfector enhances your skin tone and covers slight blemishes, freckles & veins. It can be worn in place of foundation through-out the day for a super-natural glow and then mixed with a little foundation in the evening for more coverage. This is a face & body 'make up' so it can be applied head to toe for a night out or special event, but we recommend daily use on the face, chest, arms & shoulders. Simply smooth onto the skin in circular motions and blend well using our Lusso Tan Luxury Mitt.

SHIMMER

Finishing your application with our Lusso Tan Shimmer a perfect warming highlighter for face and body. This product is so versatile. It can be swept along the cheekbones, collarbone, shoulders & shins for a sun kissed highlight, used as an eyeshadow or mixed with moisturiser for an all over body shimmer.
TAKE YOUR TAN OFF

Make sure you have removed all traces of tan before your next application. Take some time for yourself and relax in a bath filled with essential oil infused water to watch your tan dissolve before your eyes, with our Lusso Bath Bomb. Like all our Lusso Tan Products, The Bath Bomb, has been designed to repair and protect the skin. Avocado Oil is rich in Vitamin E and fatty acids excellent for moisturising. Lemon Essential Oil's high vitamin content boosts immunity and rejuvenates dull complexions. Witch Hazel & Jojoba Oil both have anti-inflammatory properties to reduce redness and keep the skin calm and comfortable.

EXFOLIATION... NO YAWNING

You've heard it before, but self-tan lotion or mousse can sink into dry skin, leaving a patchy effect that looks unnatural (and a little lizardy). Slough away those nasty bits, especially on spots like the knees, elbows, ankles, and heels by exfoliating at least once a week.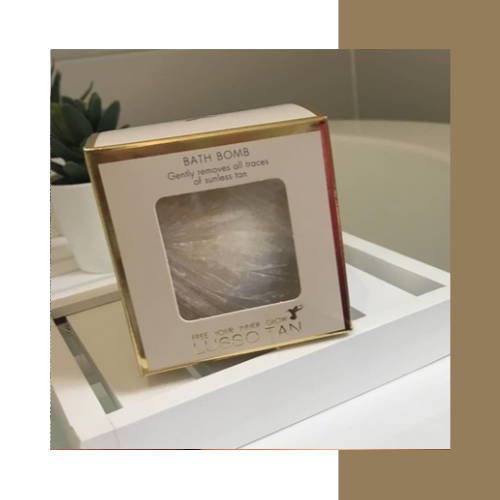 ORGANIC & PARABEN FREE TAN SPECIALISTS
As a result of their 15+ years experience in the tanning industry, the Lusso team know the importance of looking after your skin. It is for this reason that none of the products in the Lusso Tan range contain parabens or any other nasty chemicals. Every single product is organic, vegan and cruelty free.